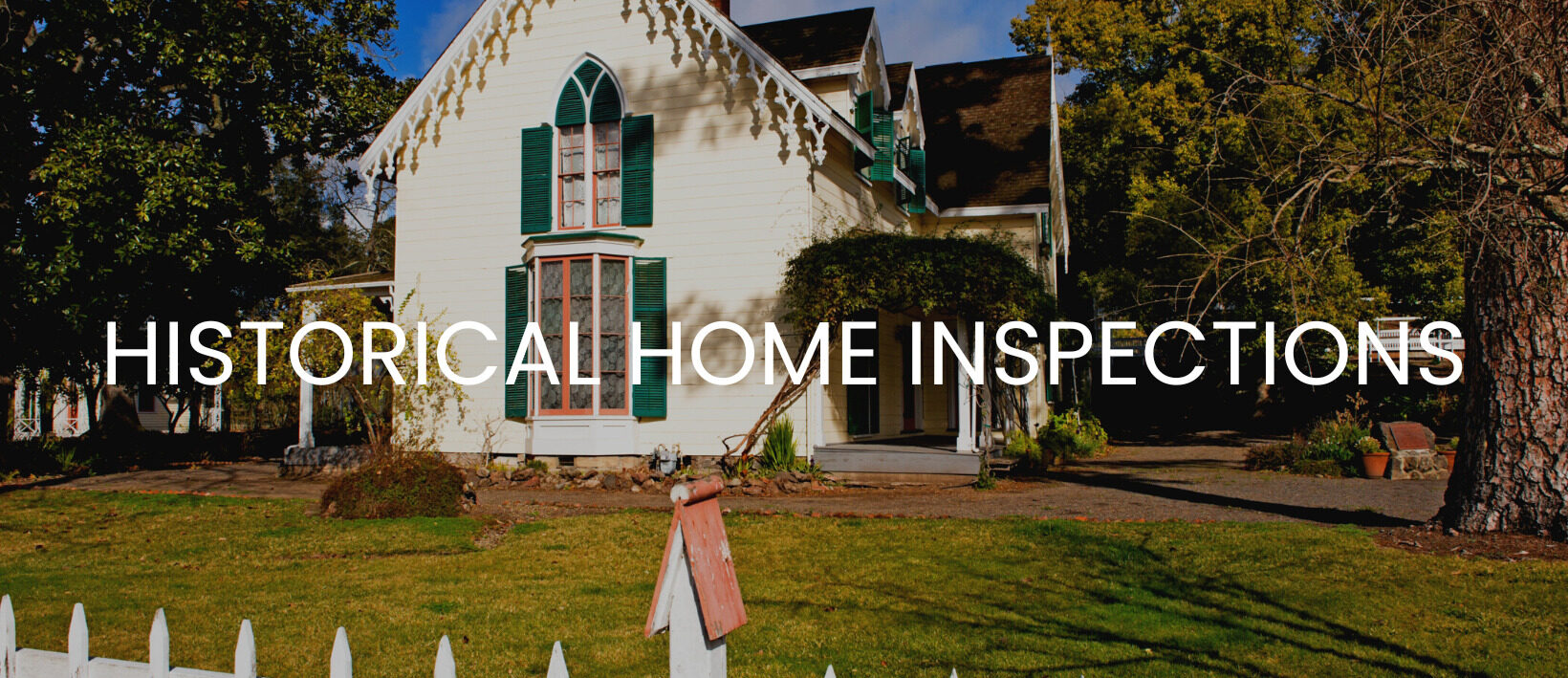 Prism Home Inspections
Maximize your selling power with a Pre-Sale Home Inspection
Older, Historic, or Landmark homes present challenges to home inspectors.
Let Prism Home Inspections be Your Service Provider for Historic Home Inspections!
A "historic" home may mean that the home is old, or that it has some significance to the client or to the community. It may also mean that the home has been "landmarked".
Landmarked homes may be privately owned or may belong to a local government jurisdiction or preservation society.  A home may be designated an official landmark by a city, county, or state, or by the federal government. Generally, landmark status makes the owner of the property eligible for low-cost loans or grants that can be used to repair, stabilize, or improve the landmarked structure.  In return, the owner agrees that changes to the structure or other work performed on it will comply with certain requirements. Most of these requirements have to do with maintaining the historical appearance of the structure.
Requirements can vary widely with the authority having jurisdiction (AHJ), and the degree of control each landmark committee sees as appropriate. Some committees are demanding and insistent in requiring applicants to adhere closely to committee-approved designs. Some committees are less involved. Policies may be highly developed at the federal level and increasingly vague toward the city level.
Whether or not the home is a designated "landmark," our home inspection takes into consideration the era in which the home was built and contemporary, acceptable building practices. The goal of our inspection is to present the general quality of the home.  We spend extra time on a historic home because we may have to investigate components you haven't seen before.
The top concerns voiced by potential purchasers of older homes:
Remaining service life of major systems. (e.g., old wiring, pipes, roofing materials)
Presence of building materials no longer in use due to health concerns.
Undersized electric service for today's needs.
High heating costs from inefficient heating systems and uninsulated spaces.
Damage to the structure from alterations, age, lacking regular maintenance, weather, or insects.
Typically, we may need to set aside extra time for the inspection due to older house components such as non-modern construction materials, a variety of electrical systems, potential environmentally hazardous materials, and unique plumbing installations.
A historic home that is for sale may be externally "beautified" with paint, but years of deterioration and old, insufficient systems can hide underneath. The laws of physics haven't changed with time, however, so many things that make a building safe or unsafe haven't changed either. Older buildings, especially those that have been poorly maintained, present observable failures and successes of the various home materials and systems.  The elements that cause deterioration of different home components have had longer to work on older homes.  Therefore, we focus our attention to parts of the home that have been exposed to the elements, like the foundation, wall coverings and roof.
Some of our findings are explained in terms of a historic perspective.
Current codes become less relevant. Safety and structural integrity become the priority. Older homes may have undergone work by someone not familiar with acceptable building practices. Although it's often difficult to see floor and wall framing, there may exist problems such as the structure being out of plumb, out of level, or not flat.
Work done that employed methods quite different from modern methods, may not be readily visible. Often, historic homes have "fixes" that have been integrated into the current structure over the years. These fixes could have led to additional defects because poor construction techniques may have been used to "fix" the issues. There may be unusual places where the house was restored effectively, like an electrical panel in a stairwell, because it's the only place to put it.  We always recommend requesting seller disclosure of any permits, engineering designs, guarantees for workmanship, and warranties for systems and materials.
We evaluate potential defects in terms of the question, "Is it doing what it is intended to do safely?"
Many systems may be obsolete; therefore, we may recommend that clients budget to repair or replace due to the age and/or condition.
We alert our client to potential environmental items. Indoor and outdoor paint may contain lead. Old insulation and heating system exhaust ducts may contain asbestos. Older items in the home may contain asbestos, e.g., linoleum flooring, exterior siding, and older roofing tiles. Lead paint on walls can leach into the soil or flooring over time, creating a toxic health risk for pets and children.
The foundation is probably the main priority since it's the component that bears the load of the entire home. Foundation failure or repairs can be especially expensive, and parts of it may be hidden. Old foundations may be brick, wood mudsill or none. In these cases, we may recommend a foundation inspection. On the other hand, it's possible that the floors in an older home will not pass "the rolling marble test." Historic homes typically have some floor sloping that you wouldn't find in newer homes.
Crawlspaces may have been neglected for years. Quite often we encounter spider nests and creatures like rats, raccoons, armadillos, and snakes that have taken up residence. If the home has been vacant for years, we may encounter animal carcasses in various states of decay.
The wall coverings often provide clues to any foundation movement. Soil or foundation movement typically shows up as diagonal cracks emanating from the corners of doors and windows.  You may also see stepped cracking in masonry walls, especially near exterior corners or below windows.  Commonly, we find deteriorated brick, masonry forms, and mortar joints. As in modern homes, they can be secret pathways for water intrusion both inside and outside the house. Mortar can leach away over time, providing excellent pathways for water damage.
Windows are often difficult to determine whether it is original. The window's condition should be the concern. We often find failure of the finish coating and decay on wood-frame windows, especially in the corners of the sill. The hardware may be missing, damaged, or replicated / replacement hardware improperly sized or used, leading to improper operation of the hardware and window itself. Single panes are not a defect, perhaps just less efficient in insulating, heating and cooling, safety, and UV protection.
The roofs of older homes are typically obsolete building materials and/or less-than ideal structural components. If the roof will need replacement soon, the owner may be facing not just removal of existing layers, but installation of solid roof sheathing over the original spaced sheathing that was typically installed.
Electrical systems may be outdated, minimal, mixed from different eras of installation, or insufficient for modern use. We may discover a variety of fire hazards and jerry-rigged systems. When confronted with these older systems, we recommend a specialist inspection by a licensed electrical contractor.
Old masonry chimneys can present a fire hazard with single-wall flues. Many of these types of fireplaces have not been used in years, are missing liners or clean-outs, and are unsafe to use without further evaluation, updating and modifying.
Older plumbing presents challenges such as functional flow at fixtures, unsafe conditions like missing or obsolete traps, and lead pipes. Older copper piping may be joined with lead solder.
Prism Home Inspectors' experience counts for evaluating older structures.
PRISM HOME AND BUILDING INSPECTIONS. PROTECT YOUR INVESTMENT.
We guarantee ALL our work.
Over 20 years serving your community.
Fully Licensed and Insured.